Empty stomachs, an empty cinema and actors performing in an empty space. Peter Brook would have approved.
I can take any empty space and call it a bare stage. A man walks across this empty space whilst someone else is watching him, and this is all that is needed for an act of theatre to be engaged.

Peter Brook – The Empty Space: A Book About the Theatre (1968)
Think of something else
Monday and Thursday evenings can be a bit of a trial. Mrs SC and I have been following the 5/2 diet for months now, and Mondays and Thursdays are our two Fast days. It's not that we don't eat on those days, but we try to limit ourselves to the recommended calorie maximum. That means, come evening, we are usually quite hungry. Finding things to take our minds off food has become a sport.
One effective method is to go out to the cinema. It wasn't an option during Covid of course, but we've used it a number of times since.
Usually the cinema is busy when we go, but this last Monday, not so much.

Official Competition
We were seeing Official Competition (Competencia oficial in the original Spanish) with Penelope Cruz, Antonio Banderas and Oscar Martinez. A fantastic cast and the film has been billed as a black comedy, so we thought it would be a good choice. And, indeed, it was. Both a good choice and a good film. But quite bizarrely we were the only people in the cinema.
The film is about two very different but equally self-obsessed actors, Félix (Banderas) and Iván (Martinez). They are preparing for a film under the guidance of auteur-director Lola (Cruz). I certainly found it funny in places, though "the year's most riotously funny comedy" and "hysterical satire" – quotes I have seen in reviews of the film – are over the top.
I think it probably appeals most to film geeks and students of acting and directing. And there's nothing wrong with that. But I did regret not knowing enough Spanish to be able to spend more time looking at the acting, less time picking my way through the Swedish subtitles. (Because of course the subtitles are in Swedish in Sweden.)
The rivals
The film tells the story of Lola's efforts to extract the best performance she can from the rival actors. On the one hand, serious theatre performer and drama professor, maestro Iván; on the other, commercially successful film actor and all-round macho man, Félix. The film Lola is making is financed by an elderly, very wealthy businessman who is searching for a meaning and a legacy for his life. She's been given the free use of a completely empty and virtually unused cultural centre the financier has built.
The best reason to see this film in the cinema is to appreciate the huge, mostly empty spaces where the actors work. Otherwise I think the film focuses so much on the faces of the performers that it probably functions just as well on a decent sized TV screen.
But what I'm getting to is that our experience, watching the film in a completely empty cinema, echoed the experience of the actors on the screen as they perfected their performances in the wide, empty cultural centre.
Success
We stumbled out of the cinema, not entirely sure whether we had enjoyed the film. But we did not feel hungry making our way home on Monday evening. And we were still talking about the film the following morning over breakfast. (We do like our breakfasts on the days immediately after a Fast.)
So generally speaking, it was a success.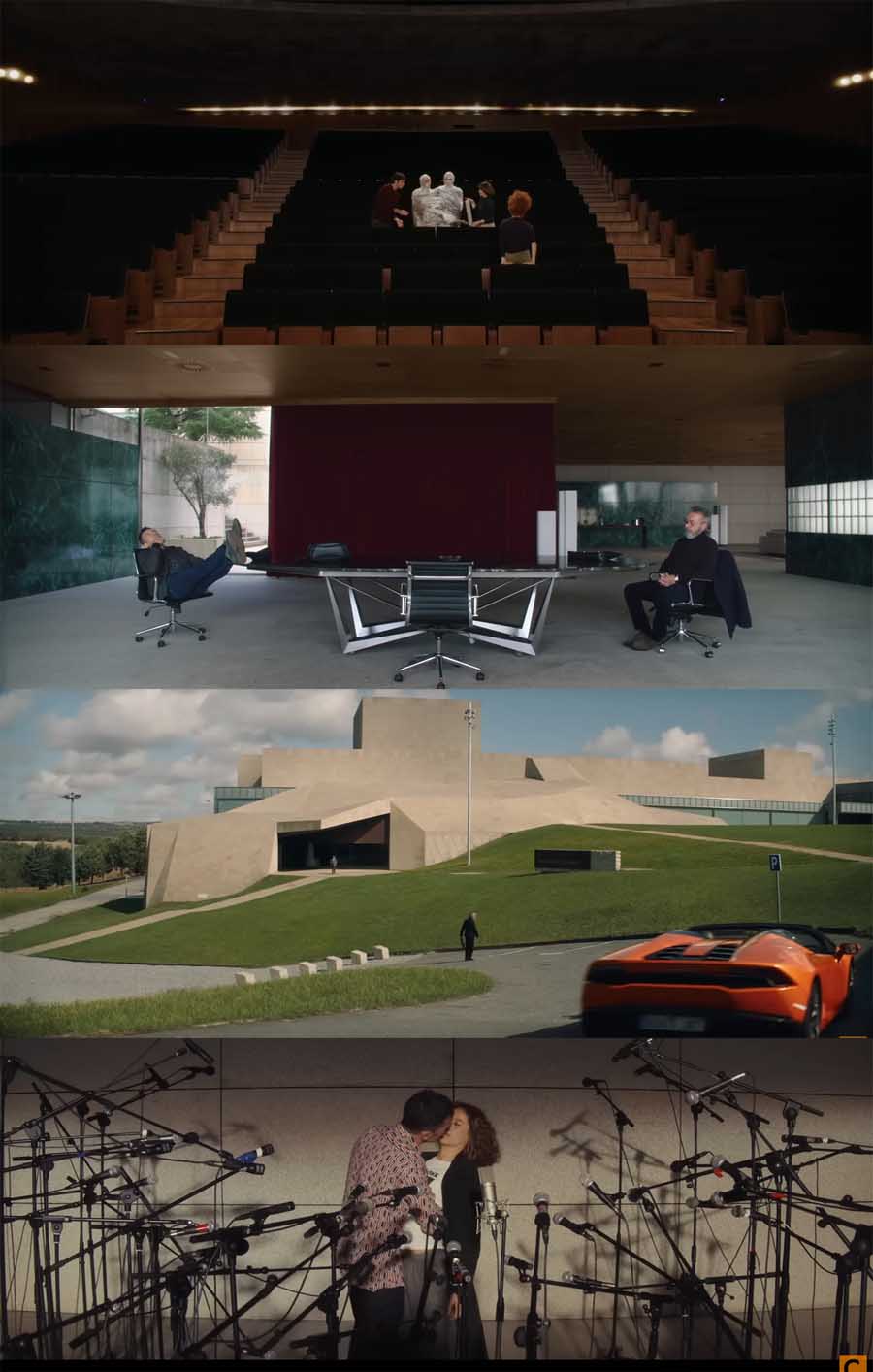 Illustrations are all stills taken from the official trailer for Official Competition.
---
Read more …