cemetery (n.)
late 14c., from Old French cimetiere "graveyard" (12c.), from Late Latin coemeterium, from Greek koimeterion "sleeping place, dormitory"…
On-line Etymological Dictionary
Ixelles Cemetery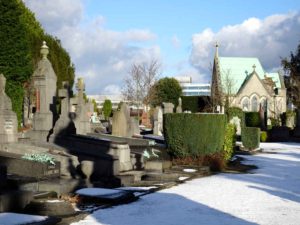 The Cemetery of Ixelles (or Elsene in Flemish) is on top of a hill in the south-east of Brussels. Conceivably, the rest of the world may be a little more familiar with the layout of Brussels now than six months ago, so it might help if I say it is on the opposite side of the city from Molenbeek in the north-west, where "all the terrorists live".
I suppose when the cemetery was planned, which I take to be in the mid-1800s, it lay in the countryside. Now it is sandwiched between the two campuses of the Université libre de Bruxelles and surrounded by a student-and-well-to-do-academic quarter.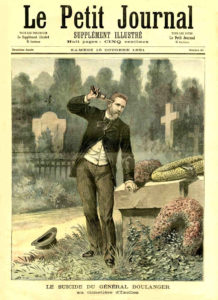 Cemeteries are interesting and sometimes dramatic places (though nothing I've yet seen quite beats the Glasgow Necropolis). Apparently all sorts of the "famous in Belgium" rest here at Ixelles, including one Victor Horta. Another is Georges Boulanger, who very nearly became dictator of France at the end of the 1880s. Dithering at the sickbed of his mistress he missed his chance and ended up in exile in Brussels. Here in the cemetery of Ixelles in September 1891 he shot himself on his mistress'  grave and is buried beside her.
But it wasn't these names that attracted Mrs SC and I last Sunday. It just seemed like a good place to visit on a fine, cold afternoon. A place for a gentle walk and an opportunity to practice using the new camera.
Monuments and memorials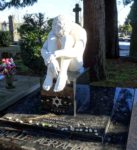 The sun was bright and the white marble statuary especially, glowed almost with an inner light that often quite washed out contrasts and made for disappointing pictures. This grieving figure on the grave of the Abraham family was the one that came out best. The cemetery is clearly non-denominational, though I saw only a few Jewish graves such as this one. On the other hand, while there are many emphatically Catholic graves (tortured Jesuses, sorrowful Madonnas), there are also monuments and memorials to people from other Christian denominations and none, judging by the symbols and statuary.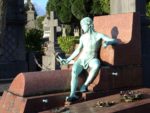 For example, I'm not sure who this young man is, but I get the idea – he's cutting the thread of life. This is the job of Atropos in Greek mythology, and Atropos is female, but perhaps the dead in the tomb here was a tailor and I'm misinterpreting everything.
Portraits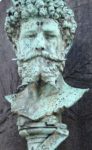 Either because Ixelles is a multicultural resting place, or because there is a different tradition here than back home, many of the graves and memorials have portraits of the deceased. This is something I'm more familiar with from graves in the Balkans or Italy, but that may just reveal the limits of my experience. Here there are Slavic graves with portraits, but also Chinese ones. Recent graves and also older ones.
It also seems to be quite acceptable to add art to a grave. Not just in the form of sculpted angels or other figures, but also portrait busts like this one. Impressive moustaches – some Belgian men still cultivate dramatic moustaches.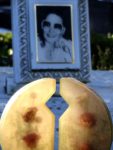 This was an interesting and sad grave. The cleft, translucent disc appears to preserve flowers. Beneath (out of shot) an inscription reads "A ma Fille". The gravestone is inscribed to Maggy Forest 1949-1983. She was 34 when she died.
POWs and family tragedies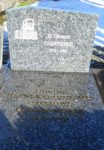 Further on, this headstone caught my eye. What is that image engraved into the stone? It looks like the watchtower of a prison camp, but who would want such an image? A former prison guard? Not likely. A former prisoner? That turns out to be what it is. This is the grave of H. Georges Chantrain, president of the prisoner veterans of Stalag VI-D, a Second World War POW/labour camp at Dortmund for the captured soldiers of the countries of Europe defeated by the Germans.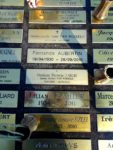 But at least H. Georges Chantrain survived and was proud of his experiences. There are other inscriptions and sadder tales. On the monument by the garden of remembrance for scattered ashes there are several panels with commemorative plaques. If you look at this one you'll see Mademoiselle Julie van Weereld who died on 14th September 2010 aged no more than 26. Look two plaques below and you'll see Madame Patricia Nailis, wife of Adriean van Weereld. She must have been Julie's mother, and she died on the same date. I find myself wondering what the tragedy was that took mother and daughter on the same day. A car accident perhaps?
Seeking refuge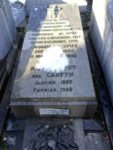 To close, here is another grave that tells a longer story, but I think just as sad. It starts by recording the birth and death of Roger de Spot, born at Folkestone on 12th November 1917, who died not much more than 3 months old on 16th February 1917, still at Folkestone. What is a Belgian family doing in Folkestone in 1917? Probably living as refugees from the German occupation. Roger's sister Genevieve was born in Ixelles in happier times on 6th December 1913, but she too met an early death, in Ghent in 1934, a month shy of her 21st birthday.
The children's father and mother lie here too, Joseph, who died at 73 in 1952 and Marie (I guess) who died at 83 in 1968. But look at the bottom of the grave and you'll see tacked on an aluminium marker for the last member of the family buried here, Etienne. Born in 1910 when his mother was 25, he outlived both his siblings and both his parents. But when he died in 2002 there was no one left (or no money) to add his name to the gravestone in the same style.
So many stories in such a small space.
---
This article was written for the #Blogg52 challenge.
I originally published this article on the separate Stops and Stories website. Transferred here with a little polishing for SEO and a new featured image 9 November 2017.