This morning there was no coffee. No filter coffee that is. Instead I had to make boiling coffee.
I wonder how many people in the wider world drink boiled coffee nowadays. Judging by the TV ads most people seem to get theirs from small aluminium thimbles and complicated high tech machinery. As recommended by George Clooney. Judging by the the American coffee shops that are an invasive species in our high streets, "coffee" out-and-about comes from steam-driven machines and is three parts milk with a dash of some patent syrup to disguise the taste.
However, most people I know make filter coffee. As do I.
But not this morning.
Internalised shopping list
Coffee ground for boiling isn't very common here, not like it used to be. Yet, it's common enough for our manufacturers still to produce it; for our supermarkets still to sell it. I didn't realise this till last year, when my mother-in-law started giving us packets.
Ulla, my wife's mother, became increasingly forgetful towards the end of her life. The last year or so, she would often find herself in the local supermarket without a shopping list. Not wanting to return home empty-handed, she would always buy a few items. Cheese, milk, coffee; they came off a shopping list she internalised – I'm going to guess – fifty years ago.
You see, she didn't really like coffee. She bought the coffee for her late husband. Lennart, my father-in-law, looked on a cup of coffee and a smoke as among the good life's few essentials.
For as long as I knew him, the old engineer was a advocate of the time-saving technology of the drip filter coffee machine. Some time in the dim past, though, when Ulla and he were newly-weds, they must have boiled their own coffee. And that was when Ulla had internalised boiling coffee as an item on her shopping list.
Boiling coffee as a gift
So, for about a year, Ulla would come home from the co-op with a vacuum sealed block of boiling coffee (kokkaffe in Swedish), and never open it, but store it in the cupboard. One packet was joined by another, and another, until there was no more room. That was when she started bringing them as gifts to us.
Invited to dinner (and we tried to eat with her at least once or twice a week), she would show up with "a little gift". Sometimes she brought some milk, sometimes a block of cheese. And sometime she came with a packet of kokkaffe. Gradually our larder filled up with them too.
We've tried giving them away, and some have gone, but they really aren't a popular gift. So it's time for us to boil up our own.
I've got the packet of boiling coffee, I've got the red enamel coffee pot. Where do we go from here?
How to boil coffee
We used to drink boiled coffee. Way back when we lived in Finland in the 1980s. In Finland, then, filter coffee was looked upon as some sort of effete Swedish fashion. Not wanting to appear effete (and also because filter-ground coffee was more expensive), we used to buy and make boiling coffee. That's why we bought the coffee pot. But that was then, 35+ years ago.
That's how I found myself, this morning, frantically Googling "how to make boiling coffee". With little success. Hur kokar man kaffe produced a better result.
Mind you, I was then obliged to pick my way through heated discussions of quantity. (One cup of coffee to one litre water, or one tablespoon to each cup of water. And one for the pot or not.) When to add the coffee to the water. (Cold and bring to the boil together, or boil the water first, then add the coffee.) How long to cook it. (Simmer for a minutes, or take it from the heat directly.) How long it should stand. (Between 2 and 5 minutes.) How to get the grounds to sink to the bottom. (Add a small piece of fish skin. The sort of thing one always has lying around.) Whether or not to add salt. (Don't do this unless your water starts out as snow or ice.)
Finally, from the coffee pot, pour a little coffee in the sink first. This is either a libation to the coffee gods or to clear any coffee grounds clogging the spout. (I suppose it works for both.)
Cries of delight, tears of relief
Coffee should be drunk as black as sin and as hot as hell, or so I've been told. In all my years I've never achieved either.
But it looked like coffee in the cups. It smelled like coffee. It tasted like…
OK, I expect it's an acquired taste. We have a kilo or so to work though, so maybe we'll acquire it. Or maybe we'll welcome the return to filter coffee with small cries of delight and tears of relief.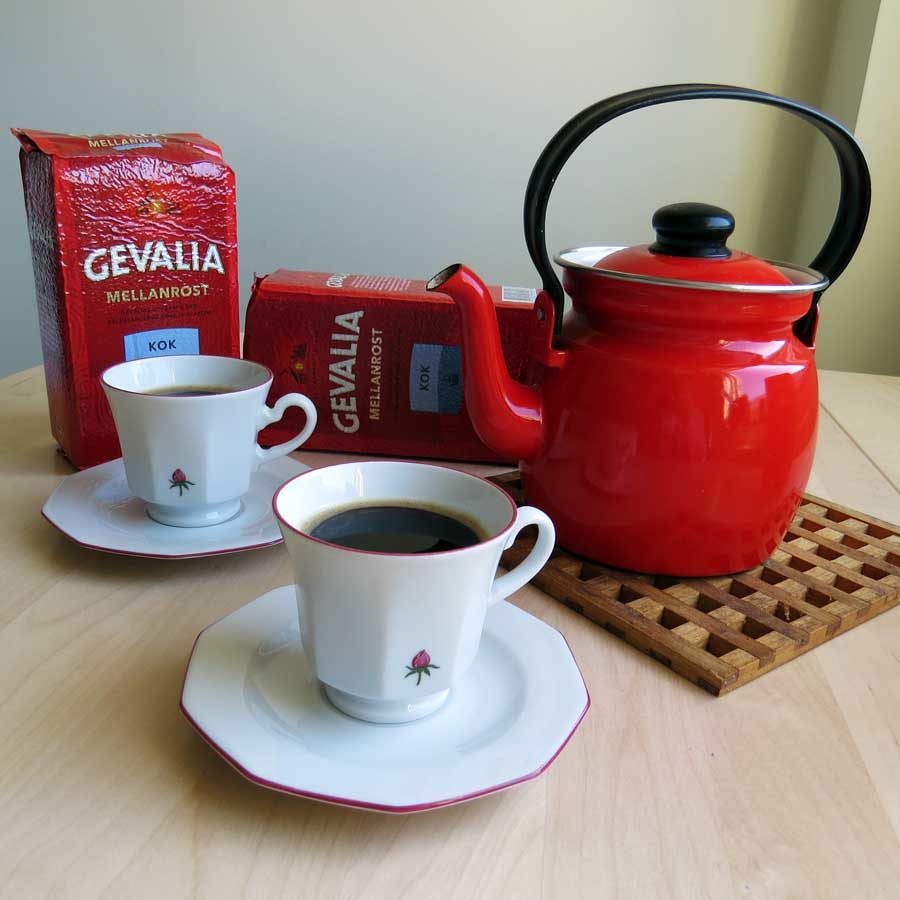 ---
Note
I wrote this post in response to a challenge at my writers' peer group, Writers Abroad.
---
Read more…