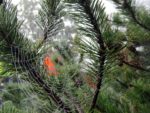 As a heavy morning mist over Ramberget lifted, I took this photo of a spider's web, pearled with droplets of condensation.
This photo dates from late August in 2014. I published it on GBG365 on 29th August 2014.
Ramberget
Ramberget is my local mountain. It's featured in a good many of my photos over the years (here for example). At 87 metres above sea level it hardly qualifies as a mountain, but it's rugged and granite and it stands up over the town. It also takes a bit of effort to climb to the top.
Ramberget is a corruption of the original Norse name Ravnberget – the raven mountain. I've actually heard ravens calling here. Heard but never seen – I suspect there's no permanent colony any more. (That said, the Swedish Wikipedia entry references at least one modern report of ravens nesting on Ramberget. The link is dead though.) Possibly Gothenburg is just too built-up for the ravens.
Keiller's donation
Be that as it may, Ramberget itself remains unbuilt. In 1906 the industrialist and second generation immigrant James Keiller, whose family owned the land, donated the area around Ramberget to Gothenburg. The gift came with conditions. One was that no buildings can be constructed on the mountain unless "for the care of the park or for the visiting public's well-being". ( In the original Swedish: …för parkens vård eller den besökande allmänhetens trefnad.) Lately, one local debate has been whether the terms permit the construction of a restaurant at the top. Personally, I'm glad there isn't one.
On the morning I took this photo there was a very heavy mist. The first autumn mist of that year. Barely minutes earlier, I took the photo below of a jogger passing a lamppost on her way up the mountain. The mist was thick, but it lifted swiftly and dramatically. It left moisture pearling the spiders webs that garlanded the wind-gnarled pines. I have a small collection of these pearled webs, but this is the best. The splash of orange beyond the web is the high-vis work jacket of one of the park keepers picking litter.