Jana Kippo is the protagonist of a recent successful trilogy of novels in Swedish by Karin Smirnoff. (The first is now available in English, though I didn't know that till just now.) For this week's blog post I thought I'd have a shot at translating a little section from the third book. I think it neatly encapsulates the whole of the trilogy. See what you think.
---
The photograph
There was a picture. When we were little it stood on the chiffonier in the front room.
Every birthday mothern had a new picture taken of us.
When we were twelve fathern wanted to start a new tradition. The whole kippo family would be in the picture.
We looked like a normal family.
When we were thirteen bror killed fathern with an axe. We d just had our birthday. The photographer d been booked. Only we hadn t had time to go there yet.
Getting the photo took was something we looked forward to. We shared a hope. As if we could become like the people in the picture. A family. A clan. Growing children. Proud parents.
Tha couldn t hold on t kill im till after they took picture i asked bror.
---
Det fanns ett kort. När vi var små stod det på chifonnején I salen.
För varje årsdag lät modren ta ett nytt kort på oss.
När vi var tolv ville fadren inför en ny tradition.Hela familjen kippo skulle vara med på bilden.
Vi såg ut som vilken familje som helst.
När vi var tretton slog bror ihjäl fadren. Vi hade just fyllt år. Fotografen var bokad. Vi hade bara inte hunnit dit.
Att ta det här kortet var något vi såg fram emot. Vi delad ett hopp. Som om vi skulle kunnat vara som personer på kortet. En familje. En sammanhållning. Barn som växte. Stolta föräldrar.
Kunde du inte väntat med att slå ihjäl fadren tills efter fotograferingen frågade jag bror.

Sen for jag hem, Karin Smirnoff
---
Norrland and Yorkshire
Karin Smirnoff's first published novel, Jag for ner till bror was nominated for the Swedish Publishers' Association August Prize in 2018. She followed the first title with two more following the story of the same protagonist, Jana Kippo. The novels are set (mostly) in the Swedish far north, in the forests and mountains, and along the Baltic coast of Norrland.
The landscape and the villages of Norrland are poor, hard and cold, and in these books the people who live there are likewise. Mired in rural poverty, many of them aging, tenacious, hardbitten, short-spoken. There's truth in the characters, but there's also a degree of cliché. Reading the books, I couldn't help but mentally remove some of the people and some of the situations to rural Yorkshire.
The clichés are similar. Yorkshire people pride themselves on being straight-talking, down-to-earth, rough-hewn, not fancy, not la-di-dah. That's why, when I made my translation, I gave Jana a Yorkshire dialect.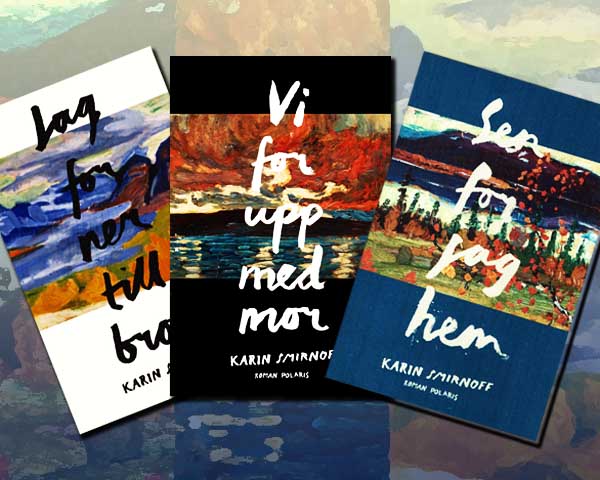 Spare, yet rich
In Smirnoff's books, the landscape, the incidents and the personalities are reflected in the language she uses. Short sentences with little punctuation. Each sentence has an initial capital letter and ends in a full stop, and that's about it. Names are uncapitalised and usually run together, so first and family names become single agglutinated units. The protagonist is not Jana Kippo but janakippo, her twin brother is not Bror but bror. The language is spare, but larded with dialect words and grammatical structures. Just as the story, superficially simple, is filled with depth and complexity. (It's funny too, in places, in a very understated way.)
And yet it is not that difficult to read, even for a non-Swede. True, it took me time to get into the first book, but about 50 pages in, I found I was reading quite easily. I read the second volume last August. Now I've just finished the final book.
Jana Kippo, her story
The trilogy begins with Jag for ner till bror (literally "I travel down to Bror"), continues in Vi for upp med mor ("We travel up with mother") and concludes with Sen for jag hem ("Then I travel home"). So the three titles in themselves, in short, undecorated sentences, sum up Jana's journey. First down (from Stockholm) to her brother, an alcoholic who lives alone on the family's smallholding in the village of Smalånger. (The name of the village literally translates as "narrow remorse".) Then she and Bror travel up (with their mother's coffin) further north to bury her in the village she came from. Finally, after Bror's death, Jana travels home.
Fathern, mothern
Jana and Bror call their mother and father modern and fadern. These aren't dialect words, though they could be. In Jag for ner till bror, Jana says she can't remember why they started to use the terms, but perhaps it was after something heard in a Norwegian children's TV show. They sound like they mean "the mother", "the father". This is appropriate as both parents have behaved abominably to Jana and Bror. Depersonalising them with these terms is a way for the children to retaliate. No ma, mum or mom, no pa or dad. I chose to use mothern and fathern.
As I wrote at the beginning, Jana Kippo's story, or at least the first book, is out in English (as My Brother) this year from Pushkin Press. Judging by the extract provided on the publisher's website, the translator has gone for a conventional translation into standard English. I think it's a pity, but also understandable. I'm not sure I could keep up the dialect for a whole book. Still, I find myself a little challenged to make a translation of the same section of Jag for ner till bror, and do it my way. Just to see if I can.
Watch this space!
---
Read more…