After all these years of writing for TheSupercargo, there's a reservoir of posts stretching back for more than a decade. There are older posts that still attract a lot of interest. You can see the tops of the pops in my sidebar list; or below this post if you're viewing on your smartphone. But there are also posts that are unfairly neglected IMHO. This week, I thought I'd resurrect a few items from the August back catalogue.
Gothenburg 365 and after-images
As I've written elsewhere (look under Photographer on my About page), between 2012 and 2014 I published daily photos on a separate photoblog, GBG365. In 2017 and 2018 I started bringing the better pics from that site aboard here. There was a run of "Photos of the Week", stand-alone images that I was particularly proud of. Plus I used some of the GBG365 photos in some of my photo essays. Here's a little gallery. The captions link to the relevant posts.
On reflection, I don't think the Tjolöholm sundial picture actually appeared on GBG365. It's a bit too early. Tjolöholm Castle is a stately home south of Gothenburg which was the setting for Lars von Trier's film Melancholia (2011) – Kerstin Dunst, Kiefer Sutherland, Charlotte Gainsbourg. This sundial features in the film and has a blink-and-you'll-miss-it cameo in the trailer.
Writerly reservoir

Running like a thread through the cloth of my blog's archive, like stitches disappearing and reappearing, is an account of my writing efforts. Frequently these refer to my often started, never finished, historical novel Elin's Story. Way back in 2010, like many other would-be authors, I was drawn into the I Write Like… craze. A web-based game that lets you share a block of text and claims to compare it with the writing style of some big name authors. Apparently my writing style is all over the place. Or it was back then. Bram Stoker, Dan Brown, James Joyce, JK Rowling, I was like all of them! The links still work so you can try it yourself. Here: I Write Like … a hell of a lot of people.

Still being writerly, August 2014 saw me try to get crowd funding for a photo book of pictures from GBG365. It was going to be called My Gothenburg Days/Dagar i mitt Göteborg. It didn't work out very well, but I learned things. I learned about crowd funding, about some of the complexities of self-publishing, about making a promotional video. I also learned the word "escrow". It was new to me and stuck in my head more, I suspect, because of its form than because I'm ever going to make much use of it. Here's Wikipedia's definition if you're curious.
Travelling curiously with eyes and ears open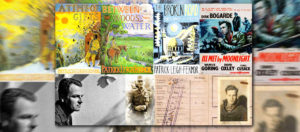 I've been publishing reviews of various sorts since the very beginning. And I've been documenting my travels. In 2016 I reviewed a book about someone else's travels. Paddy's Journey – Gifts, Woods and Broken Roads was occasioned by my reading the long-waited and ultimately posthumous concluding volume, The Broken Road, of Patrick Leigh Fermor's trilogy about walking from London to Constantinople in 1934.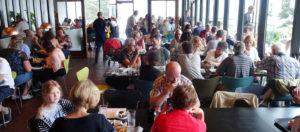 Although I never walked an adventure like Paddy, I always thought I might. Though as I've got older, I've become less and less inclined to just walk out. Instead I travel by wheel and stay in hotels and write about the people I overhear and the things that happen along the way. Also in 2016, in the cafeteria of the (fantastic) Louisiana Art Gallery in Denmark, I watched this little drama.
Live, Floss, and Prosper
I haven't attempted funny cards for a long time. Not since 2010 apparently. (I didn't realise it was so long.) But I went through a phase of commenting on films I was watching by collage. This is the best one, and it feels like a good image to close with. Watch the first Star Trek reboot film (2009) with Zachary Quinto as young Spock and Leonard Nimoy (aged 78 at the time) as Spock Prime. Tell me I'm wrong, but to me Nimoy sounds like his false teeth are really badly fitted.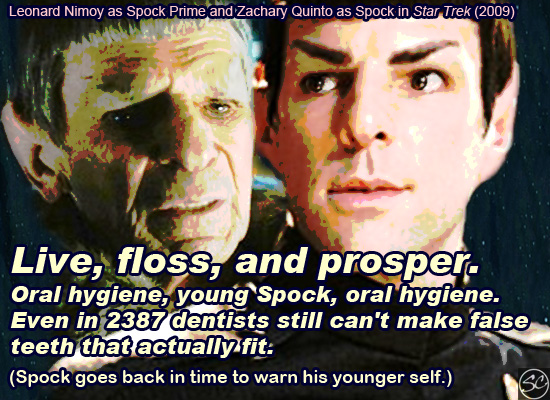 ---
Do you really want to read more? OK …