As I wrote last week, I'm going to be sharing a series of posts from Brussels that I never got around to writing 2015-2017. This is the first.
Two weeks ago, while Mrs SC worked, my trip back was a photo expedition to some of the places I missed. On Friday 19th October I ate breakfast at Cook and Book in Woluwe-Saint-Lambert.
Cook and Book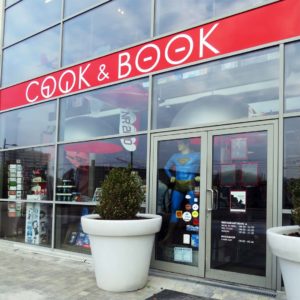 I learned about Cook and Book quite early on in our time in Brussels. I read about it in one of our Brussels travel guides, but I also heard of it by word-of-mouth. A restaurant that was also a bookshop that was also a cafe that was also a venue. It sounded like my sort of place. But, though we visited a subsidiary in Fort Jacko to the south of where we rented, we never got to the original. Now, though.
Cook and Book is west of central Brussels in Woluwe-Saint-Lambert, one of the more affluent of the 19 municipalities that make up Greater Brussels.
Friday morning I took myself off by metro through the morning rush-hour, office workers and kids on their way to school. Also a patrol of four very visible, heavily-armed and camouflage-costumed soldiers. They borded the carriage with me and everyone else at Maelbeek station and travelled through Schuman to Merode, the stop after, where they got off. They seemed to be doing that, the soldiers, the whole three days we stayed in Brussels. Shuttling back and forth on the metro as well as patrolling around the Schuman station. Up above Schuman, in the Berlaymont building and around, the EU's October 2018 Summit was underway.
I stayed on the metro, and stayed standing until after the Montgomery station when at last there was room to sit. Though by then it was only a couple more stops to Roodebeek where I got off.
A crescent embracing a theatre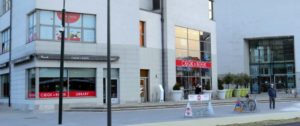 Coming up from the underground it's easy to see Cook and Book. It's in a new-looking, white block of buildings across the road. The red Cook and Book sign is prominent. The block looks like it was all designed in a piece and built at more or less the same time. There's a kind of round structure, which turned out to be a theatre, and then a crescent of buildings and walkways curving around. The crescent has shops on the ground floor and maybe storage or office suites on the floor above, and then what look like student flats above that. A step back from the first crescent,there's another crescent of blocks of flats, which may have gone up the same time though they look older and less of a piece.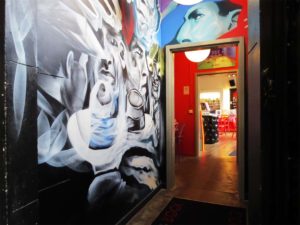 There's a hairdresser's and may be some other businesses, but Cook and Book occupies most of the shops in the first crescent. One of the descriptions I've seen of the shop is says it's "as large as a supermarket". Well, maybe. It's certainly large. But it's not like any open plan supermarket I've ever been in. Rather it's a series of large rooms of different shapes that open into and off of one another. Now I think about it, it's more like a secondhand bookshop from my youth. Except it's not converted from an old house. It may even have been designed as a single shop from the beginning, though probably not. Excepting the semicircular café room next to the kitchen, each room looks a bit like a library, but is really a section of the bookshop.
Airstream
Each room is themed for the books to be found there. The literature section has paperback books like birds hanging from its ceiling. (How one's thoughts can fly away with a good book.) The middle of the lifestyle, gardening and children's section has a galvanised steel greenhouse (without glass). A working lunch restaurant decorates the cookbook section. Or, I suppose, the cookbooks decorate a working lunch restaurant. Depending on your point of view.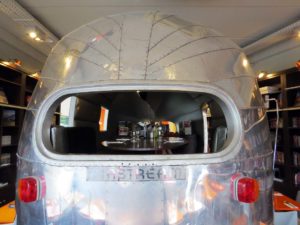 The travel section has a large, polished chrome Airstream caravan parked in the middle of it. Wonderful distorted images of books and shelves reflected all around.
In every room tables are set for diners, with placemats, cutlery, napkins and glasses. It takes the idea of a bookshop café several steps beyond Waterstones or (from what I've heard) Starbucks in Barnes and Noble. Half of the shop – the half with the café in it – opens at 8 o'clock in the morning and serves petit déjeuner among other things. The rest of the shop, further on along the crescent, opens at 10. That's the part of the shop with the restaurant in it. The whole shop seems to be open till 10 in the evening, though perhaps till later on jazz nights. The music section includes a performance area (with baby grand) and they have a schedule of concerts.
(Judging by what I can understand of the Cook and Book website, they also host literary events. Which would make sense.)
I got to Cook and Book at about 9 a.m. – well within the time-frame to feel comfortable ordering breakfast. The orange juice was fresh, the bread and croissant were warm and served with butter and St Dalfour raspberry jam, the coffee was good.
I wasn't alone. Two tables left of me a party of four young professionals were having a meeting over a shared breakfast. Or maybe they were two local couples sharing breakfast before heading off to work. Elsewhere a couple of older women were talking and eating while a young man sat on his own in a window seat with a cup of tea and his thoughts. Outside another couple of women in conversation were drinking coffee and smoking.
It wasn't crowded, but it wasn't empty either, and while I sat there I heard the cash register ping in the serials section a couple of times.
After breakfast, and with permission, I walked around the shop and took my photos.
---
I'm also publishing this article for the #Blogg52 challenge.
---
Read more…